The skeptic
Daniel Hull is the owner of KMH Insurance Group in Las Vegas Nevada. The primary focus of his agency is commercial insurance. Daniel admitted that he was skeptical of signing up with Better Agency. He saw the online ads and heard others talking about Better Agency and thought it all sounded "too good to be true".
Prior to Better Agency he had tried every software CRM he could including Infusionsoft. "I was putting together things that were just too difficult for my team to use on a daily basis." It wasn't until he was directly referred by another Better Agency user that he decided he would take the plunge and start a 14 day trial of Better Agency.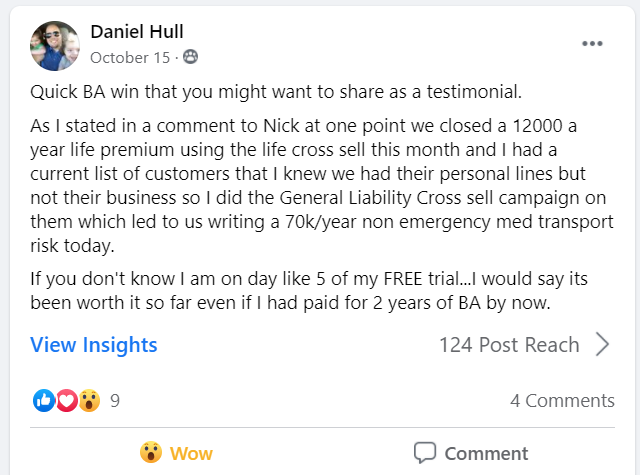 "I was looking for something that could follow up with my clients, keep us in front of them, and keep them engaged. Something to set us apart from other agencies and Better Agency gave us that."
The quick results
Daniel saw immediate success and fast results after switching to Better Agency. During his 14 day trial, Daniel launched the built-in cross-sell campaigns.
From that initial launch, he wrote over $30k in new premium in just 3 days. Daniel also said that he wrote more life insurance inside of 5 days than he had ever done at any point in his career.
While Daniel was inside of his 14-day trial, he launched the new business automation campaign for commercial insurance. These built-in campaigns helped him close a $70k commercial account, and a $300k commercial account.
"I wanted to facilitate the engagement with the clients, improve our retention, and ultimately improve our agency. I want to make sure we are there for our clients and Better Agency gave us that."
The current situation
Since starting Better Agency, Daniel has dropped all of the other systems he was using and uses Better Agency to handle all of his agency workflows and communications. As a result, he has become more efficient and his team can focus on tasks that generate more revenue. Daniel loves how simple Better Agency is. It has allowed him to increase sales and minimize bottlenecks in his agency.
An added bonus Daniel has seen since using Better Agency is his increase in Google reviews. Daniel launched the Google review campaigns that are built into every client-facing campaign and as a result of getting more reviews, it has helped him write more large commercial business.
"One thing Better Agency has done is it has allowed us to secure more large commercial insurance referrals from their Google reviews and long term nurture automations."
"If I would have known then what I know now, I would have jumped in the first time I stumbled across their website. It has brought exponential change to our agency and it has helped us improve our business"
Better Agency: The #1 insurance CRM
If you are an insurance agent looking to grow your agency and streamline your processes with automation, then you need to use an Insurance CRM.
Better Agency was built by insurance agents and it's the top choice for agents looking to grow their business. With Better Agency you can take advantage of all the top features included: automation campaigns that are built into the platform. This includes all of the emails and text messages, as well as reporting and task management.
Schedule a Discovery Call with Better Agency now.